In a recent study survey 60% of entrepreneur said bookkeeping and accounting were their least favorite task.
Entrepreneur http://entm.ag/12DhNm1
Shedding a little "love" on the situation
And since Valentine's Day is just a few days away, I want to spread a little love for my subject matter.

I've discovered that…

Accounting headaches are caused by the same mistakes we make on the dating scene.

Love it or hate it, the dating scene is a sometimes uncomfortable situation most of us can relate to!

So in this post, I'm going to help you identify and avoid the accounting traps. And if you've broken up completely, get you and your numbers back together again.

1. You haven't met yet. (Unfamiliarity)

I get it. Taking that closer look at your financial situation can be scary. 



But as with any relationship, SOMEONE HAS TO MAKE THE FIRST MOVE, and that means Y-O-U.


Business terminology can be like a foreign language, and once we become adults, we're just expected to know the financial answers, and buy financial products and sign documents we don't understand.

The not knowing these basics brings struggle to so many. It's why I founded The Money Doctor® - to fill in those knowledge gaps. So if you need the help, just say "hello." We don't bite! 😆

2. You've met, but it's not a good fit. (Incompatibility)

You know those couples you see that should have ended things waay long ago?

That describes perfectly the "junk" accounting systems you just keep putting more data into.

It's never going to give you what you want (ease and simplicity) or need (good reporting), but you think: "it's too much work to change."

You fight - with the menus. When you spend time together (with your system), it's awkward and uncomfortable. You're just not on the same page - literally because you can never get anything printed!
.

It's all a great struggle. And that's why you hate your bookkeeping. It's not that you can't do it. IT JUST ISN'T A FIT.

3. You're not "all in." (Escapism)

This last one is for the online daters out there who sign up and think magically "things" are going to happen with them sitting on the sidelines.

Yes, I'm describing the outsourcers who pay the bookkeepers, accountants, CPAs, business managers and whatever else fancy names they are called, without any follow up or checking in, or requirement that they followup with you.

- What do the reports they send mean and how can you improve?

- What's behind the tax bills that are growing each year?

- Where's the draft of the taxes for review before filing?

Outsourcing is intended to take the stress off of you, but doing it this way is still stressful because in the back of the mind you're wondering. You hope things are getting done, but honestly, you're just not sure.

So the whole subject you'd rather not talk about or hear about, but instead just let someone else handle it. The problem with that is, if something gets filed incorrectly (or not at all) you're still responsible for it.


Let's work on your relationship with your numbers.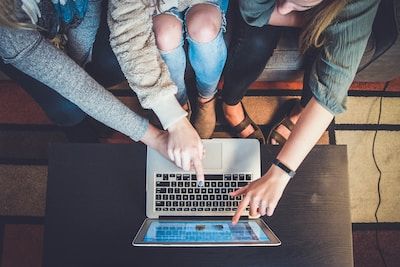 I don't expect you to love bookkeeping and accounting. And if you've been burned in the past, I totally understand why you may hate that part of your business.

But what if we could change that?

What if you could feel more confident and in control, like "I can do this?"

Outsourcing financial matters can be a smart move as your business grows, but you'll want to be sure to stay in the loop.

Our processes give you access and total control but come built-in with a CPA and team support on the back end.

Click the image below to learn more about this month's featured course.


We've got this awesome FREE guided walkthrough just for you with two amazing accounting system platforms that you can choose from. And here's the best part: you can do it all right from your phone! All you need to do is swipe left and right or use the handy dropdown menus. It's super easy, and you'll be set up and caught up in no time. So why wait? Let's get started on this exciting journey together!


\Learnworlds\Codeneurons\Pages\ZoneRenderers\CourseCards
Created with